BMW has been spotted test driving a prototype version of the upcoming BMW M2 high-performance coupe at the Nurburgring. We all knew it would be quick but boy does it look fast and well-mannered on the track.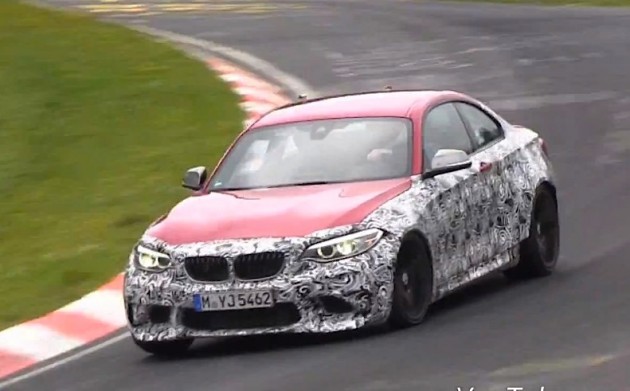 The BMW M2 will sit beneath the M3 and M4 in the proper M car lineup. It will also sit above the M235i, which is essentially a 2 Series that has been tweaked and enhanced by M division.
For the M2, this will be a more bespoke vehicle using unique, heavy-duty components. The suspension, differential, brakes, and some of the chassis is amped up and strengthened to cater for a higher level of performance driving, while the body, as you can see, is slightly pumped for a more muscular look.
Details on the engine and specs are yet to be announced, however, it's understood the engine will be a 3.0-litre twin-turbo inline six like what is seen in the M235i and the M3 and M4.
In the M2, power is likely to peak at around 280kW. This would make it around 40kW more powerful than the M235i and about 40kW down on the M3 and M4, appropriately. Acceleration from 0-100km/h will probably come up in 4.5 seconds – also about in-between the M235i and M3.
With the 1 Series coupe no longer around, being replaced by the 2 Series, the new M2 is set to be the successor to the old 1 Series M Coupe. The M Coupe was a completely unique model designed and developed by M division.
Aside from the mechanical stuff, the M2 is expected to come with a plush yet sporty interior setting, with buckets seats, loads of M-labelled trimmings and controls, and special M buttons and driving modes.
It will be the new flagship 2 Series, priced above the $80k M235i but beneath the $157k M3. An on-sale date has been earmarked for later in 2015.
Take a look at the video below, provided by cvdzijden YouTube channel, for a quick preview.